Blackhead Remover Vacuum Pore Cleaner

Features:
UPGRADED DESIGN: The latest generation of blackhead remover has the capability of stronger suction and deeper cleansing of the skin. After tests implemented by more than 1000 user, this blackhead vacuum can effectively remove blackheads, whiteheads, dead skin, grease and makeup residues, smooth wrinkles and tighten skin after continuously using for 2 – 5 weeks.
EFFECTIVE AND SAFE: The blackhead vacuum uses innovative vacuum adsorption technology without hurting your skin. This black head cleaning tool is more convenient and effective than using facial mask or acne needle.
3 LEVELS OF SUCTION POWER: The pore vacuum is designed for a variety of skin types.
Strong suction, Suction strength is adjustable,effectively to suck out the nose blackhead and acne. The suction power is bigger than the traditional blackhead suction machine.
Tips:
Before using, please apply a hot towel and use the blackhead export serum.
Long press to turn on the machine! Long press to turn on the machine!
Only when equipped with the probe tightly, the suction function can work!!
Thanks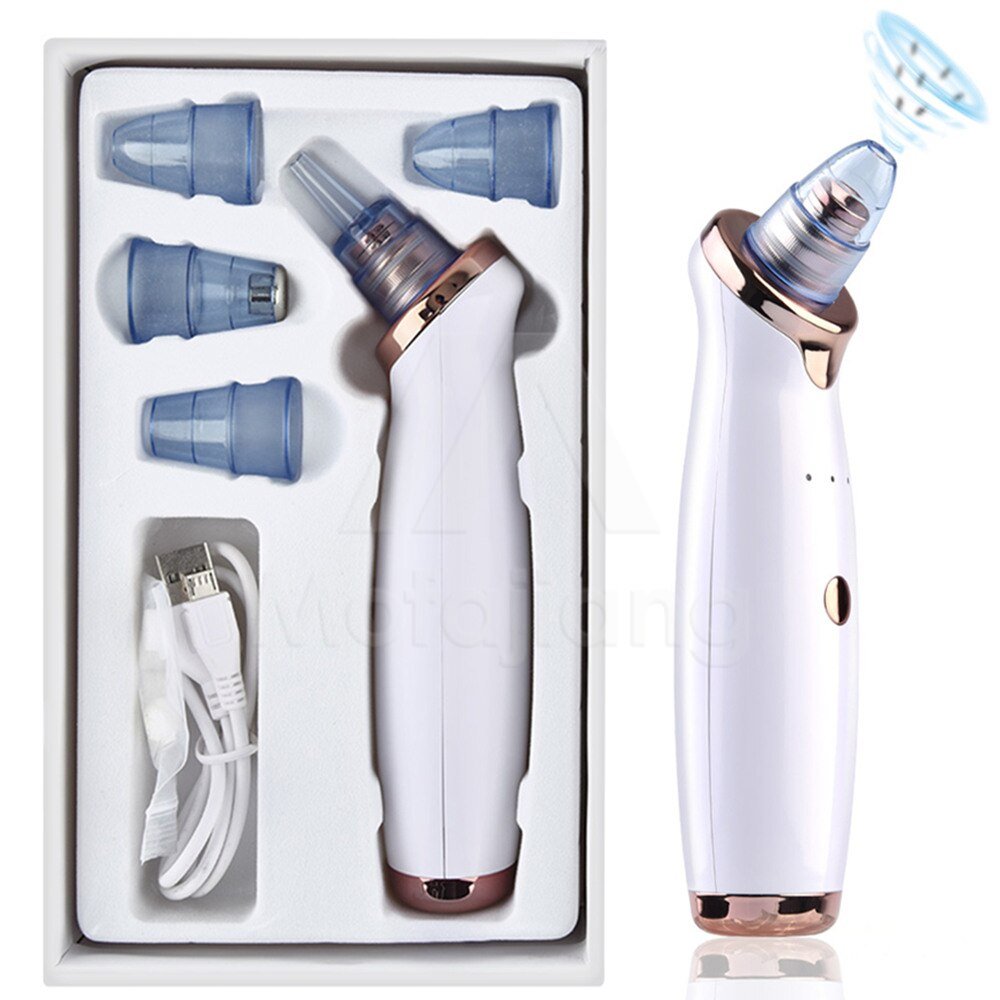 Functions:
For acne, pimple skin treatment
Remove Blackhead, deeply clean face
Treatment for the sagging skin and wrinkle, skin Rejuvenation
Treatment for the stain and dull skin, reduce skin hyper pigmentation
With light on the machine head
Easy for you to see your skin clearly. Rechargeable with USB cable, you can charge in Power Bank, PC or use mobile phone charge adapter
The light suction level 1 and level 2 are suitable for sensitive and dry skin. Please use it with the small-hole beauty probe for the first time. The medium suction, level 3 is for neutral skin,oily skin. It is designed for mixed skin with large pores.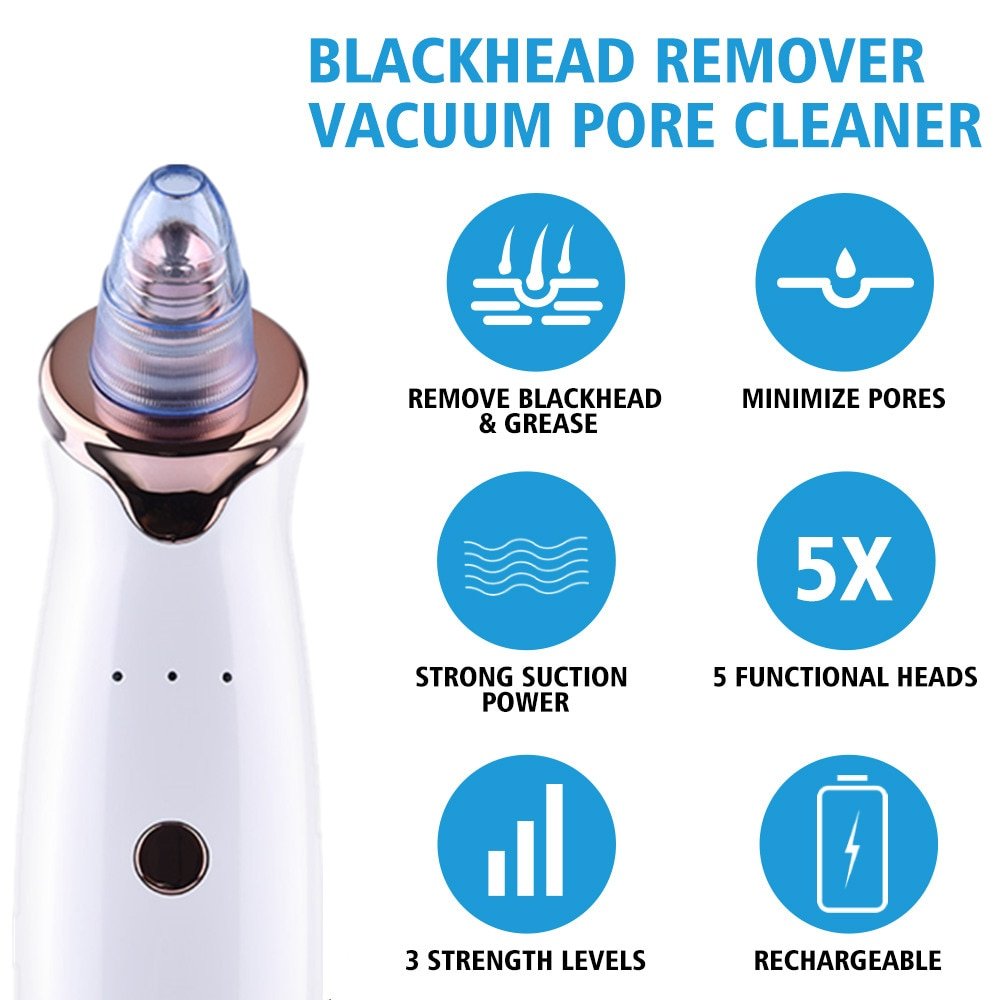 There are 3 gear positions that can be adjusted:
1.The small round head is used for sucking blackheads and is especially suitable for fragile skin. The suction is weak.
2 The main effect of the big round head is also remove the blackhead and acne, but the strength is larger than the small round hole. So strawberry nose and some oily skin use this.
But be careful not to stay in one place for too long, otherwise it will cause bruises.
3 Elliptical head for reducing fine lines: You can quickly pull it out after sucking the skin, then suck it up and then pull it out. It can effectively remove fine lines.
4 Sanding head, microcrystalline holes: The dead skin can be removed by means of edge grinding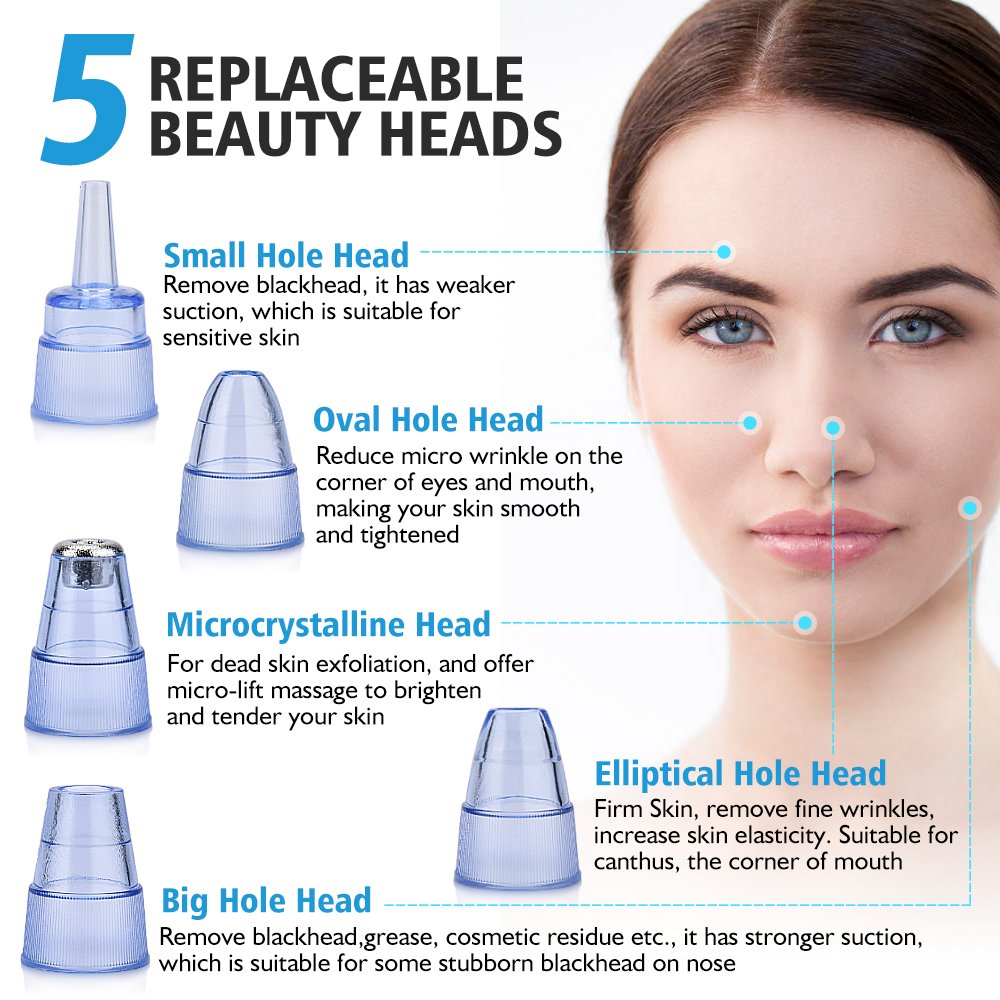 Steps for usage:
1. Export blackheads
First Use warm water to clean the face before use, then apply a hot towel to the face or use a steaming machine to heat the face for 5 to 10 minutes. Wait until the pores are open before using it.
(if you have Blackhead export essence, you can apply it on the nose for about 5-10 minutes )
2. suck out the deep blackheads
Adjust the gear that suits you, move slowly on the skin, do not stay in the same area for too long
3. shrink pores
Finally, apply Pore Care Essence for about 15 minutes to shrink the pores.
The blackhead vacuum is made of eco-friendly material ABS, non-toxic, non-irritating, which can be safely used on the face.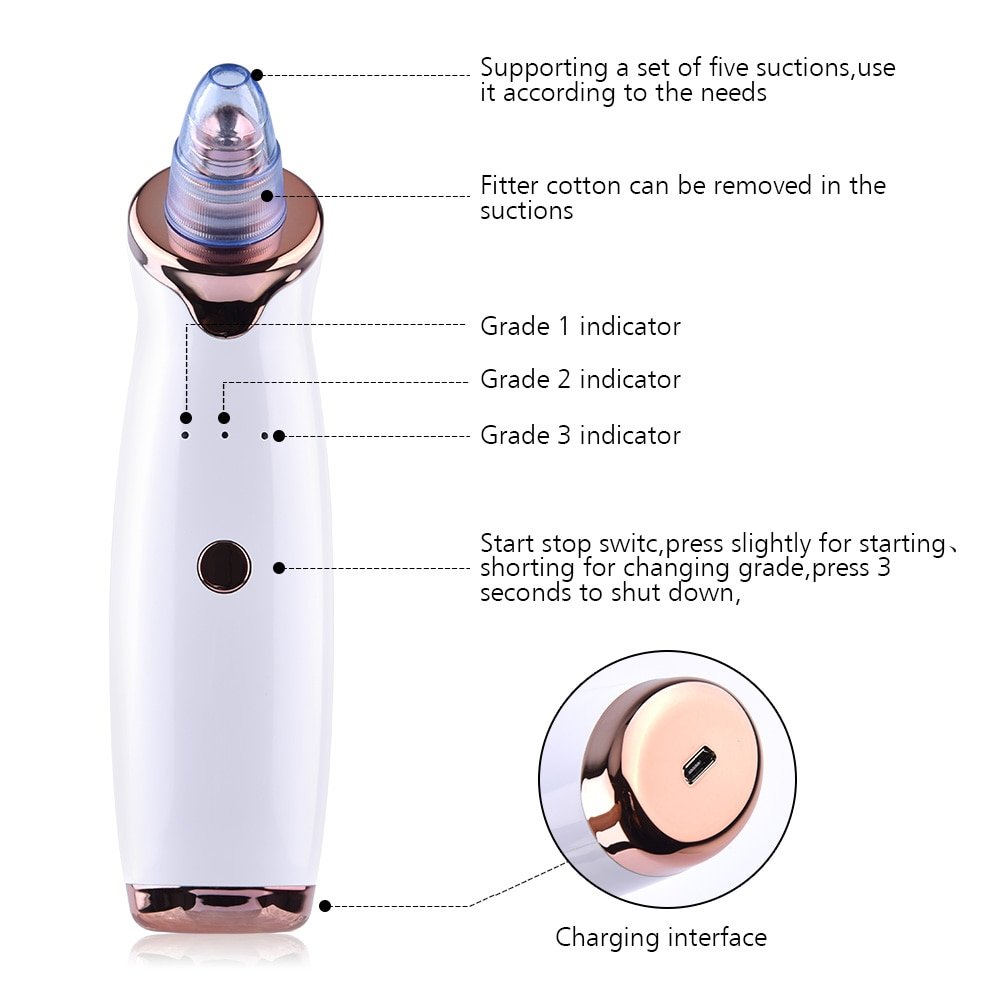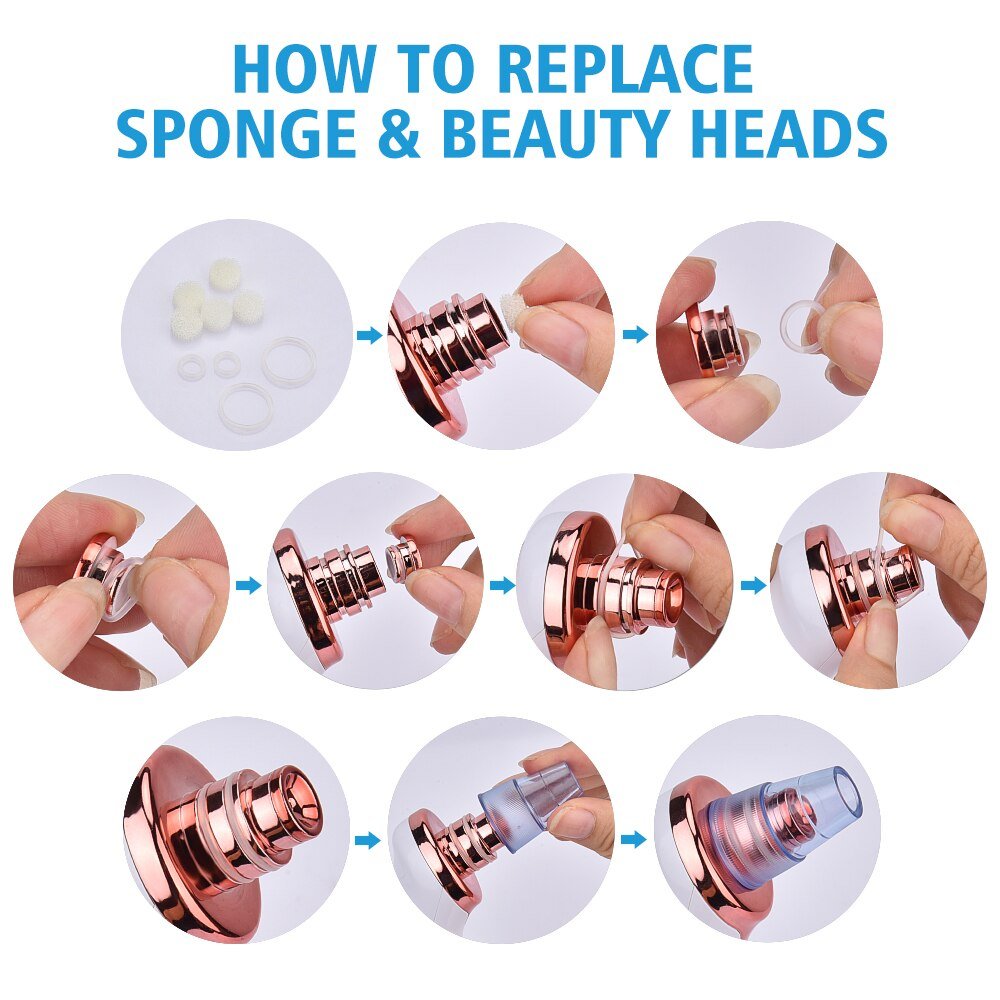 Warm tips
Start by opening up your pores with warm water. You can place a damp, warm towel over your face for a
few minutes, use direct steam, or take a warm shower. Let your pores open up as you relax.
Starting with the lowest setting, lightly press the skin vacuum on your skin, moving it along slowly, but
ensuring that you don't leave it in one place for more than 5 seconds. Staying in one place too long may
cause irritated skin. Always work moving downward. For example, start at the top of your forehead and work down, moving the
Make sure to use light pressure, as the instrument pulls naturally. Using too much force may damage the
skin.
After using the tool, it's imperative that you close your pores for complete healing. Simply place a cold
towel or mask on your face for 5 – 10 minutes and enjoy the cooling sensation.
It's normal to have some redness or sensitivity after using the Blackhead Vacuum Pro, don't be alarmed. It should settle down after closing your pores, but each person's skin reacts differently, which is why it's important to start with the lowest setting and adjust accordingly as your skin gets used to the tool.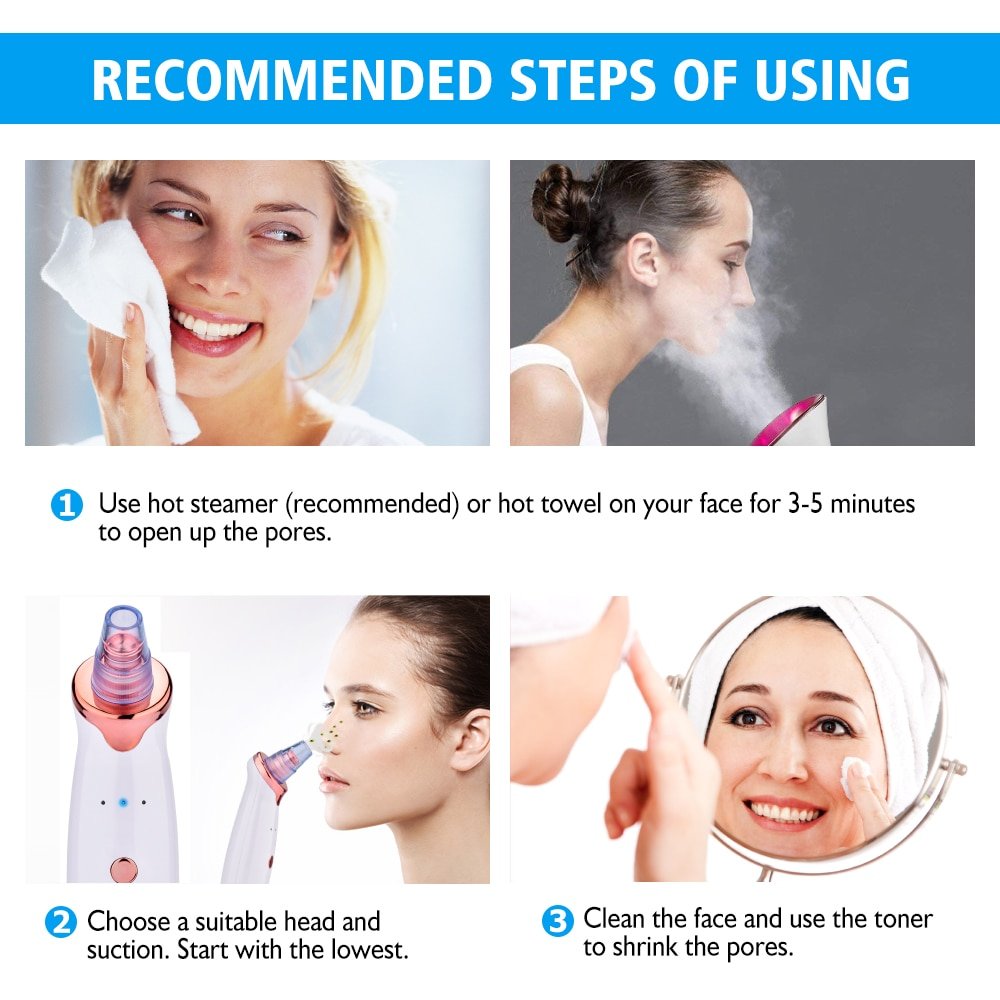 Facial Pore Cleaner Blackhead Remover Vacuum Suction Cleaner Pore Acne Pimple Extractor Removal Device Skin Care Beauty Tool Household SPA
Features
1.[Safe & Effective] Adopt innovative upgraded vacuum absorption technology for super strong suction to effortlessly suck out blackhead, whitehead, dead skin, make-up residue, acne and pimple without hurting your skin, non-irritating and painless to avoid side effects.
2.[Multipurpose Application] 3 adjustable suction levels and 6 replaceable suction heads for free adjustment, widely suit different skin types and work on different skin areas, fully meet your custom pores cleaning demands.
3.[Easy Operation] One button control, you can conveniently power on/off and switch suction stages, user friendly to operate for instant enjoyment.
4.[Clear Indication] High definition LED display provides direct indication of suction levels, remain battery power and working status for real-time monitor to get prepared for the next use.
5.[Stable Power Performance] Built-in 380mAh rechargeable polymer battery can be charged by USB charging, you can practically access power supply via PC, tablet computer, adapter, power bank and other USB-enabled devices.
6.[Reliable Quality] Ergonomic streamline body and high quality ABS material allow for comfortable holding grips, durable for long time use.
7.[Compact Size] Lightweight and portable design, suitable for home and travel use with carrying breeze.
Specifications
Material: ABS
Shell Color: White
Working Voltage: 5V
Suction Strength: ≦62KPa
Charging Voltage: 5V
Input Power: 2.5W
Rated Voltage: 3.7V
Battery Type: 380mAh Rechargeable Polymer Battery
Power Supply: USB Charging
Charging Time: about 90min
Package Included:
1* Vacuum Electric Blackhead Remover Cleaner(Main Unit)
6* Replaceable Suction Head
1* USB Cable
1* User Manual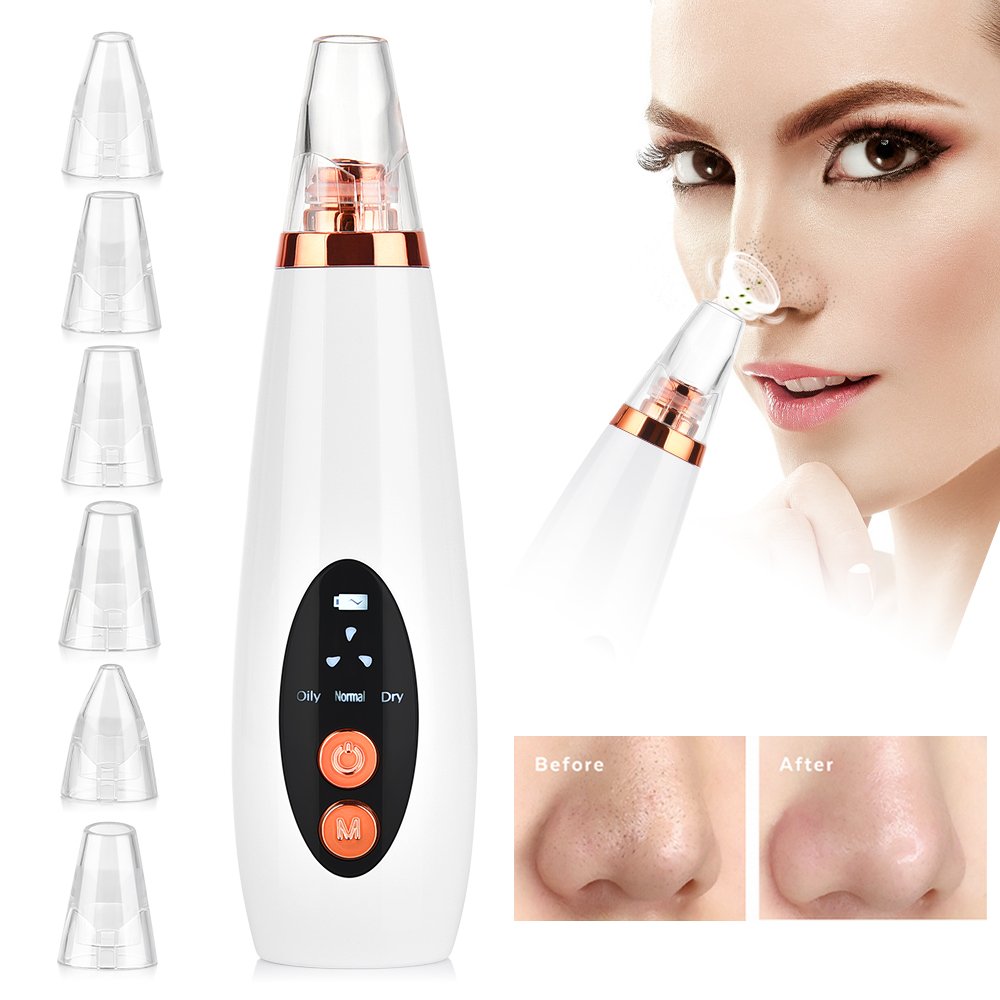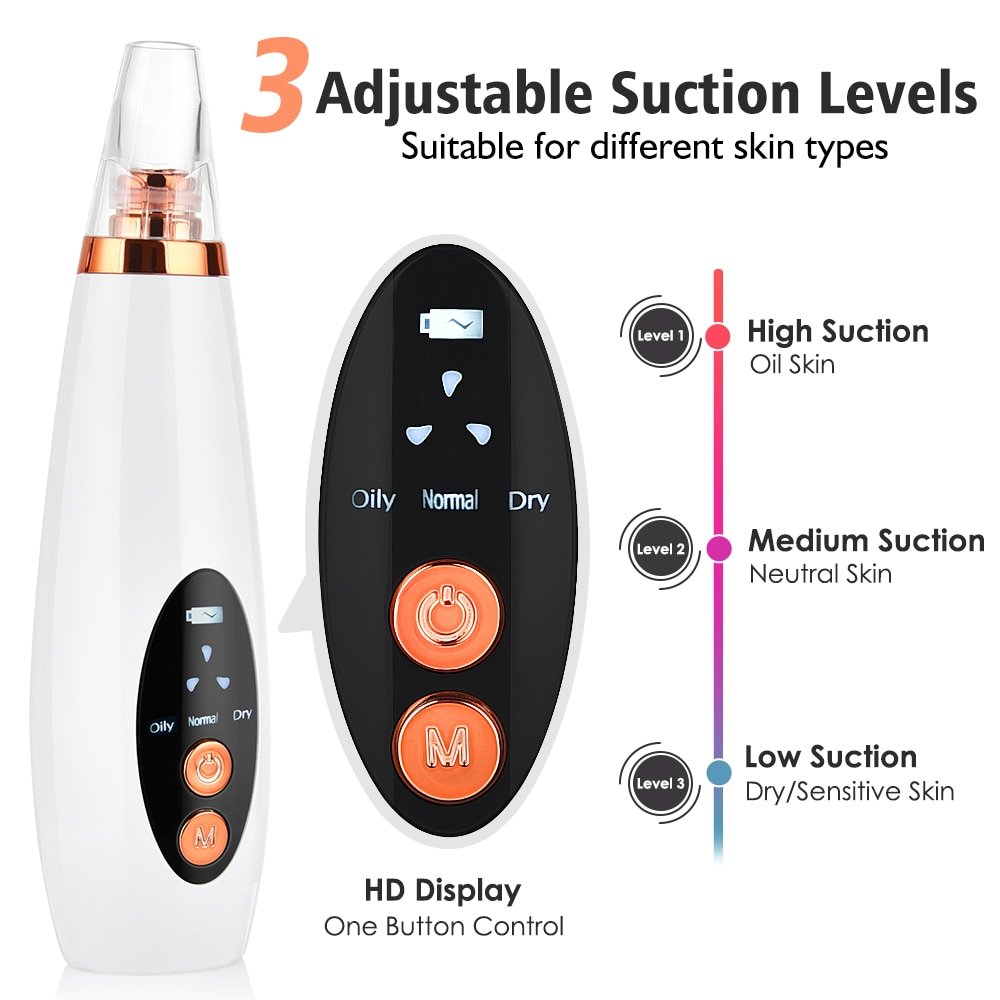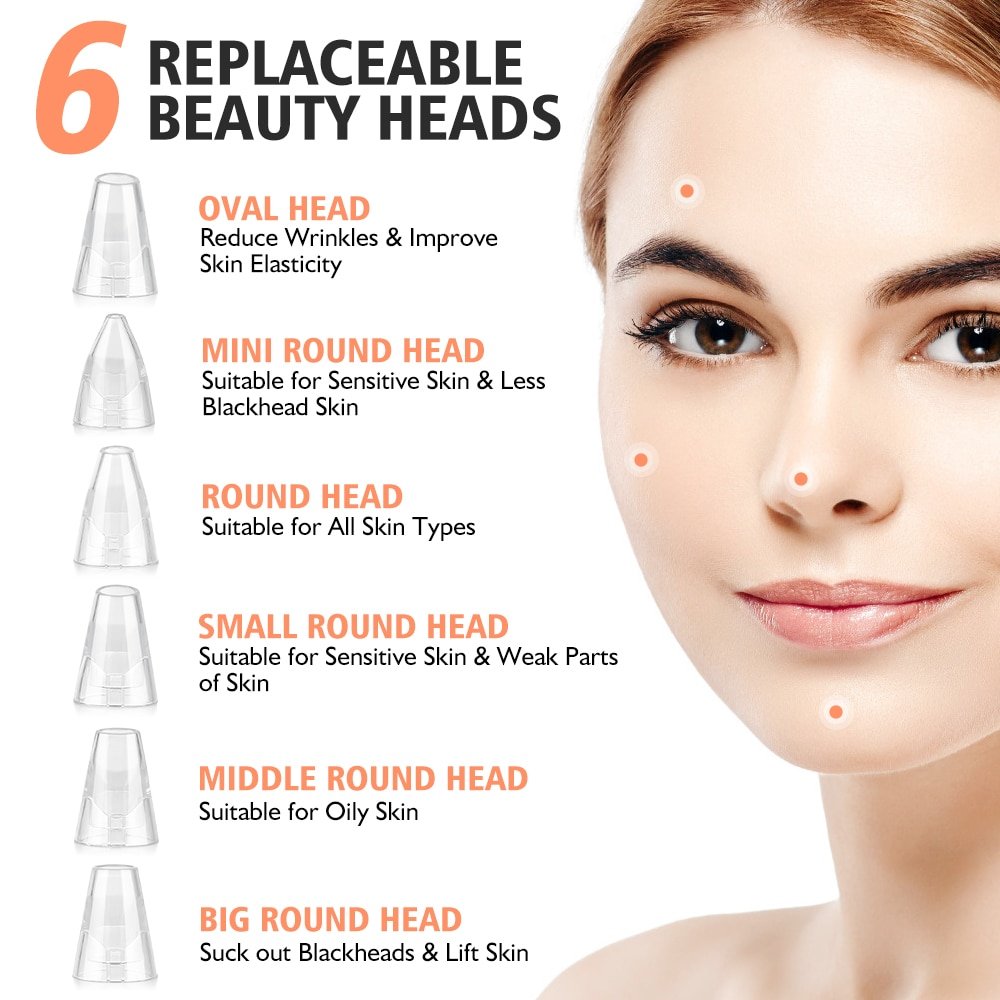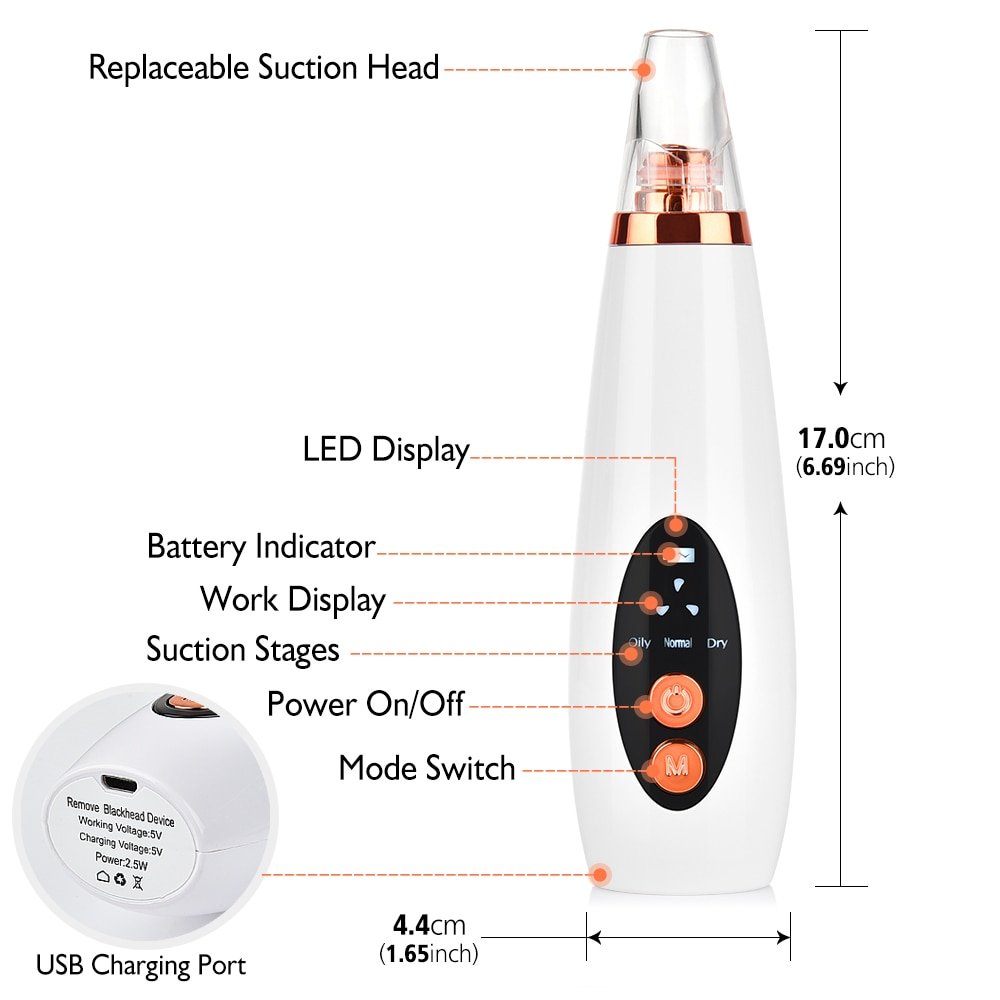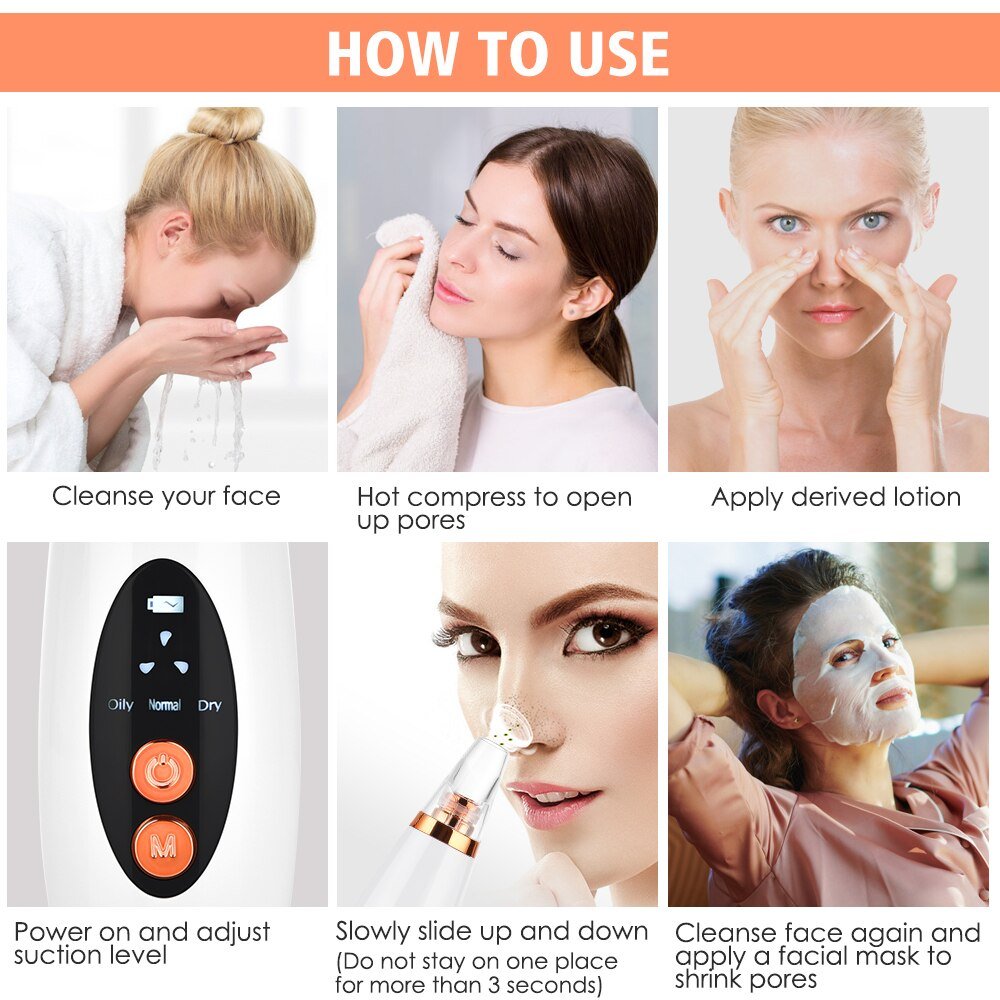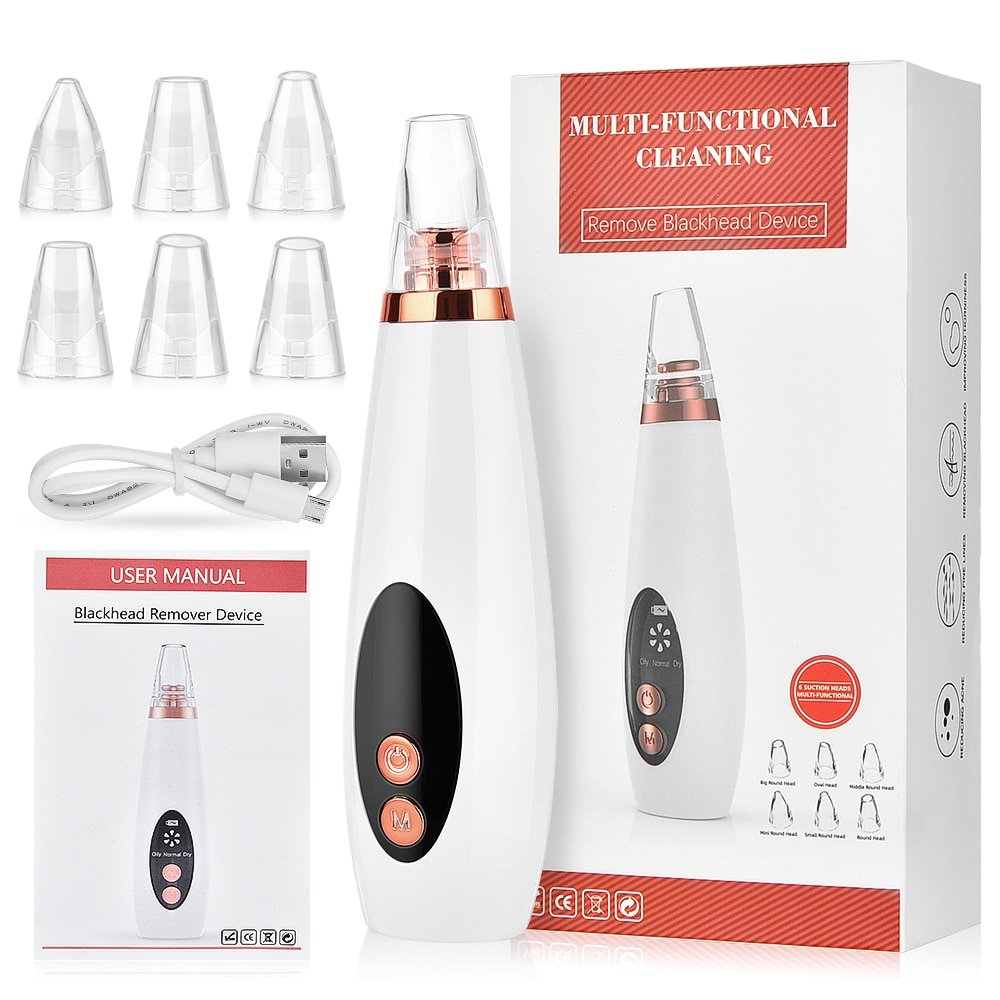 Vacuum Pore Cleaner Face Cleaning Blackhead Acne Removal Suction Black Spot Cleaner Facial Cleansing Cosmetology Face Machine
Features:
Three-speed adjustment, deep cleaning
Physically sucking blackheads, dredging pores, and exporting dirt
Turn on the ion export function, and use the physical positive and negative alternate flow to suck out the blackheads deep in the pores and deep face cleansing.
Specification:
Product Name : Blackhead Remover Vacuum
Material: ABS+PC
Input power: <4.0w
Input voltage: 5V
Input current: <1A
Battery capacity: 850MAH
Battery type: lithium battery(USB Charging)
Suction: 53KPA
Charging time: about 200 minutes
Use time: about 150 minutes
Steps for usage:
1.Use warm water to clean the face before use, then apply a hot towel to the face or use a steaming machine to heat the face for 5 to 10 minutes. Wait until the pores are open before using it.
(if you have Blackhead export essence, you can apply it on the nose for about 5-10 minutes )
2. Choose the appropriate probe and install
3. Turn on the blackhead remover machine, move gently on skin
4. Finally, apply Pore Care Essence for about 15 minutes to shrink the pores.Or apply a cold mask or toner tomachine to skink pores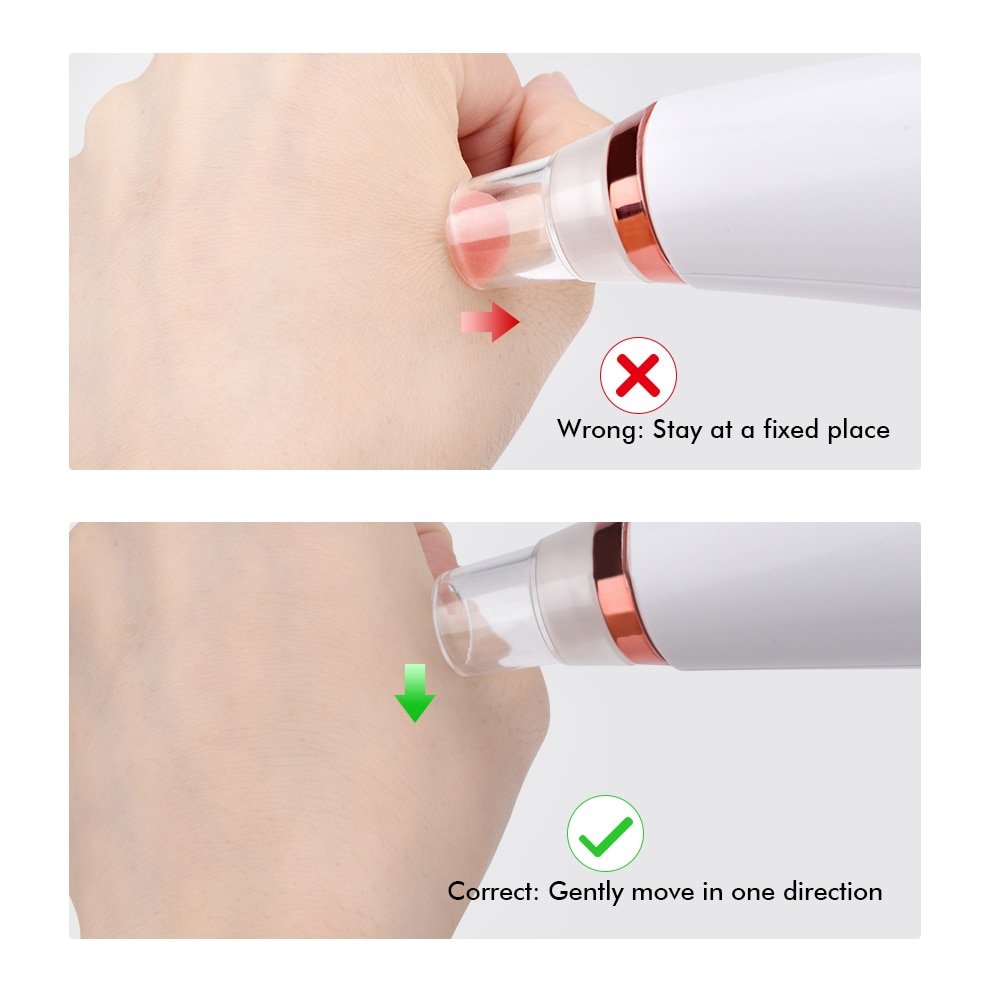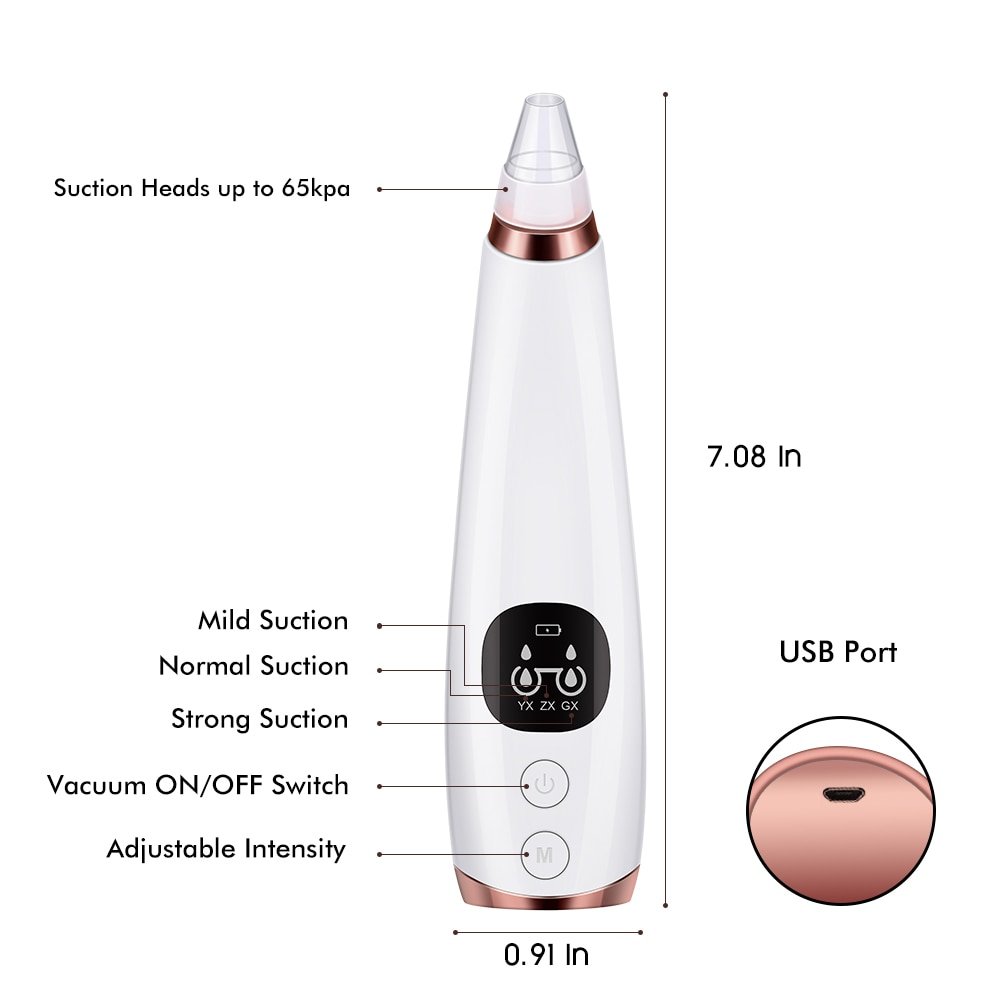 Package Included :
1* Blackhead Remover
6*Replacement Beauty Head
1 * USB Cable
2 *Silicone Gasket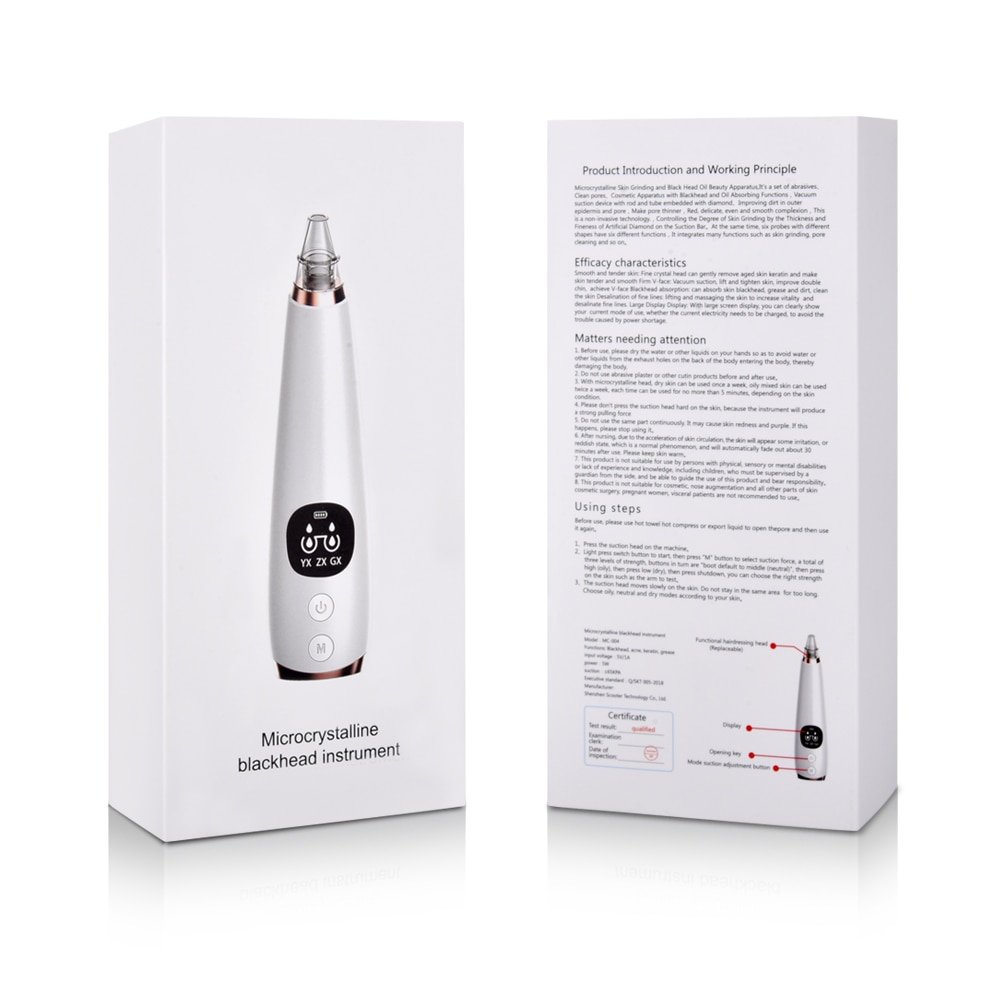 Stainless Acne Blackhead Removal Needle Pimple Spot Comedone Extractor Cleanser Beauty Makeup Face Clean Care Tool
Features:
Double-ended design, economical to use the acne needles.
Effective in removing blackhead, whitehead, acne, pimple, blemish etc.
Made by high quality material stainless steel , not easy to rust and distort.
Ultra-sharpened design , ensuring there is no damage to your skin or pores.
High quality stainless steel material.
Diverse tools that cover all acne types.
Easily eliminate stubborn blackheads,blemishes.
Metal case,healthy and non-irritant.
Specification:
Product Name: 4 pcs/Set Acne Blackhead Pimple Treatment Tool
Material:Stainless Steel
Color:Rose gold
Type 1: 12 cm / 4.72 inch (Bend cell clamp)
Type 2: 11.8 cm / 4.64 inch (one headed short ring one headed needle)
Type 3: 12.2 cm / 4.80 inch (one headed long ring one headed needle)
Type 4: 12.2 cm / 4.80 inch (Double headed press ring)